There is always that one guest at the office party that virtually everyone tries to avoid.
They talk about themselves…
Or, their dog…
Or, their super awesome vacation…
You get the picture – every conversation is self-referencing. And, after a few minutes of polite listening, we tune out, check our phones, or turn to other guests.
It's not that they're bad people – they just want to be seen, heard and understood as much as you or I – a lot like your brand.
The challenge for these individuals and brands alike, is an inability to connect.
But, there is hope. By taking a few simple queues from office party etiquette, brands can experience meaningful, sustained engagement with their customers.
Lesson 1: Put others first
Content marketing is most effective when there is an alignment between the audience, the content and the platform as seen in the Venn diagram below.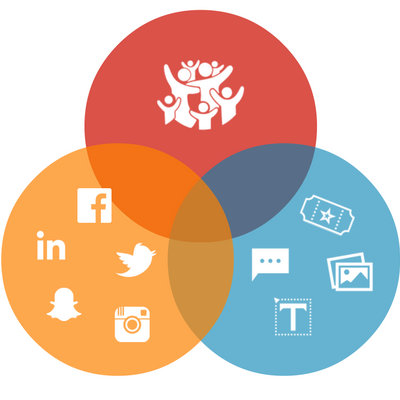 Marketers will often use research to help discover the right audiences for their campaign using demographic and psychographic data; the right platforms for audience selection based on insights gathered from past campaigns or leveraging research offered by the various platform vendors; but somehow default to product- or service-centric content and wonder why campaigns don't perform as hoped.
It is important to consider that while the audience may share your platform or even your approach to delivery (i.e. text, video, images), they don't necessarily share your zeal for the brand. As such, leveraging your audience data can help to make informed choices about the subject matter that you publish.
When developing a content marketing strategy, I walk clients through a variation of the commonly used 70/20/10 ratio for content marketing:
70% about YOUR AUDIENCE – what are the things that interest them enough to share with their friends and co-workers? What can you share that is particular interest to your audience, but that also ties back to your brand? For example, if you sold pet food, your content could include ideas like:

How to care for your pet's dental health
Best place in the city to take your pet for a walk
Top 5 pet videos on YouTube

20% about YOUR BRAND – you've paid attention to your audience's needs, now take the opportunity to talk about yourself. Using the pet food company as an example:

Nutrition facts about our pet food
Why dogs vote to make us their number 1 brand
Our fundraiser for the local SPCA
PRO TIP: Seeing what content resonates in your 70% can help you tailor how you speak about yourself.

10% EXPERIMENTAL – Try something new. This might be the introduction of an infographic, a quiz or a cat video. This provides brands with a low-risk opportunity to understand your audience better, or even reveal new audiences.
Lesson 2: Take an interest in their interests
American Express is in the finance business with a particular focus on supporting the needs of small businesses with managed credit solutions.
American Express could have simply set up a website that promotes their products and services. However, once an individual becomes a card member, there is little opportunity or need for that member to re-engage – representing a lost opportunity for American Express to connect.
In order to solve this communications gap, American Express took note of the challenges being faced by their core audience and developed the American Express OPEN Forum. The campaign helps small businesses address challenges across an array of business-ownership topics such as operations, financial management, human resources and client management. And as a result, helps American Express foster value-based connections with their members.
Using this client-first approach has set the American Express OPEN Forums as the gold-standard in content marketing.
As a large, multi-national organization, American Express has a diverse audience base and has the ability to address the content needs of members across multiple platforms. And, as a result owns a variety of publishing platforms to support their content strategy including their website, Facebook, Twitter, Tumblr, YouTube and LinkedIn.
Lesson 3: Create an environment for conversation
Getting there takes extensive planning. Following some simple steps can help to create the right environment for your content to thrive and increase levels of engagement with your audience.
Step 1 – Select relevant content marketing platforms
Assuming that you have enough data understand your customers, find the best platforms for you to connect. For example, if the bulk of your audience is made up middle-aged professionals in B2B sales, Snapchat may not be the ideal platform for your content strategy. However, LinkedIn is likely to help you share relevant insights with your industry colleagues.
Finding the right platforms does not need to be difficult. Most platforms have research that will tell you who predominantly uses their respective services – just try Googling [platform name]+business. Or, if you're strapped for time, have a look at Social Media Demographics to Inform a Better Segmentation Strategy produced by Sprout Social to get started.
Step 2 – Create relevant content
Effective content – that is content that receives stronger engagement –  occurs when brands satisfy the interest of its audiences. Like the American Express example, find topics that are going to interest your audience – information that helps them be better at their job; more knowledgeable about an upcoming innovation; or, that content that simply inspires them.
Econsultancy has developed a Periodic Table of Content Marketing which is great resources as you consider your options for content development.
Step 3 – Engage
Authenticity and active participation plays a role in establishing your credibility and commitment to the relationship. Imagine putting all that effort into getting to know your colleagues at the party, only to neglect the relationship the next day.
In the same way, effective content marketing strategies require you to maintain the relationship and to engage with your audiences. Tools like Hootsuite or Agorapulse can help brands gain visibility into the conversations being generated by content and provide content managers with the valuable insights such as sentiment and engagement to identify brand advocates and support future content development.
This is my new style
This is my new text block.
This is a fancy new paragraph